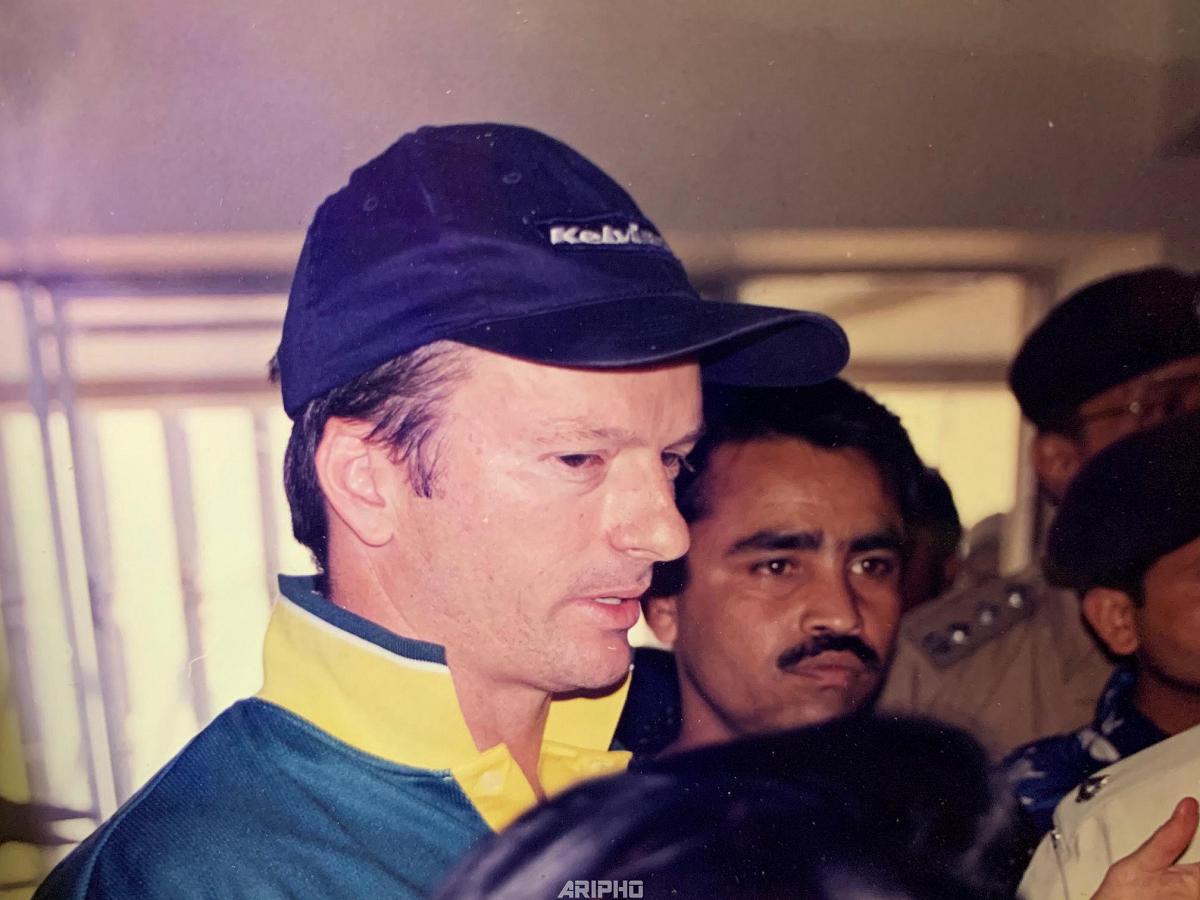 This is a photograph of a very eminent Cricketer and former captain of the Australian Cricket team Steve Waugh.
There is nothing special in it. Yes there is nothing really striking in this photograph but a story behind it.
Back then I was using a Nikon Coolpix digital camera and was doing a freelance assignment for some not so prominent organisations. I was asked to click photos of the Australian Cricket team practicing at the Eden Gardens. I neither had any Press card nor any experience to cover any such events then. What I only possessed was oodles of confidence in myself which I have now lost in due course of time. More importantly I was very innocent and had no idea what was waiting for me at the high security zone.
I went at the Eden Gardens with my baby camera and somehow managed to sneak in, avoiding the security guards. I had managed to enter the Club House of The Eden Gardens for the first time ever and that too with out any official pass. The feeling was like a huge victory though it was just a level before the big one.
I had landed in between the two dressing rooms : Australian and Indian .It was a huge crowd out there. It took me quite some time to realise that it was the birthday of the legendary Australian spinner Shane Warne.
So every one was waiting outside the visitor's dressing room to wish him. I was no exception. With my baby camera in hand I too waited there to get a glimpse of him or any Australian player for that matter. Suddenly the door opened, and Steve Waugh came out through the crowd which was moving like sea waves and I felt like a small boat trying to sail through .
When I managed to take a look  at the visitor's dressing room I got the glimpse of the birthday boy standing with a bouquet of flowers in his hand. I noticed a senior photojournalist from the Reuters coming out of the dressing room and shouting out Shane Warne's name with all his might to draw his attention. I hardly managed to capture a bust of Warne and Waugh that day with my lazy camera (it always took photo after a couple of seconds of pressing the shutter) and by that time I had realised that it was no child's play to get my desired shot/ frame.
By that time team India had started freehand exercises before going to the nets. That was a dream come true for me watching Tendulkar and Vinod Kambli from an arms distance. By the time I managed to regain my mental stability the entire team was on the ground stretching by the gallery. Since no one other than the ground staffs and the players were allowed inside the boundary (unlike other grounds)all the photographers had to stand at a spot with limited view of their stretching. As usual all of them were fighting for position. I being the junior most and unknown among them was trying to distance myself from the pushing and shoving of the seniors. After some time we all had  become truly unruly (which we do very often)and had started creating a lot of chaos. It was at that very moment that an official from the CAB (Cricket Association of Bengal) came out and asked the seniors to behave properly. The seniors acted in a really childish manner or as a matter of fact very diplomatically and proposed the official to remove any photographer without the official  pass. I was the only one there without pass and had to leave that day with a very heavy heart. I still wonder how much space they had actually saved by removing me. They could have displayed their seniority that day in a better manner. I couldn't procure a single good photo that day but managed to learn a very important lesson in my life which helped me later in my career as a photojournalist.
Today those seniors behave very normally with me . I think either they have grown up now or I have managed to prove my mettle.
Photo & Text by : ARIJIT SEN
Edited by : RAJASHREE SEN